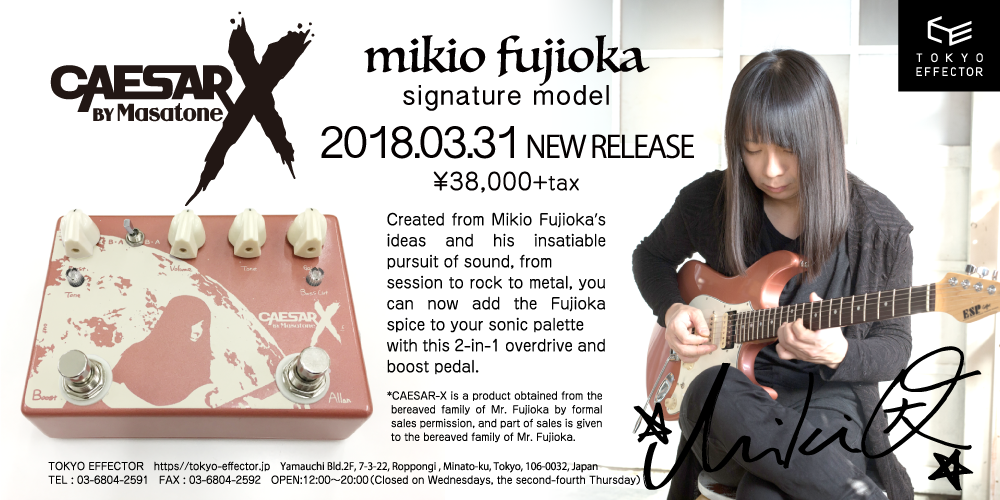 Created from Mikio Fujioka's ideas and his insatiable pursuit of sound, from session to rock to metal, you can now add the Fujioka spice to your sonic palette with this 2-in-1 overdrive and boost pedal.
While still alive, the world-beloved guitarist Mikio Fujioka and Tokyo Effector collaborated, and the resulting "Masatone Caesar X" will be released on March 31, 2018. The Caesar X embodies Mikio Fujioka's playing style, from session to rock to metal, you can now add the Fujioka spice to your sonic palette with this 2-in-1 overdrive and boost pedal.
The A Channel contains the Caesar Overdrive favored by Mr. Fujioka. From crunch to high gain, you can get superior overdrive without any dead points in the gain dial. Through the nuances of pick attack you can achieve glossy bell tones and harmonics. It has a sensitivity of touch and response jut like that of an amp, and can be easily controlled when the effect is engaged through the volume control on the guitar and pick attack. The A channel was named "Allan" after Allan
Holdsworth, whom Mr. Fujioka much admired.
The B Channel contains a clean booster. It allows the the pure tones and contour of the guitar to shine through untouched but just with an added boost, allowing your sound to step forward in the mix.
As per Mr. Fujioka's idea, the A and B channel are independent configurations and it is possible to switch the order of the overdrive and booster within the pedal.
When setting the clean booster before the overdrive, you are able to get a compression like high-gain amp sound. When setting the clean booster after the overdrive you are able to use it to boost your signal for solos and a variety of
sounds. Of course the clean booster can also be used independently to emphasize the clean sounds of an amp, the boost of sounds at high gain, and the emphasized aspects coming from boosted signals.
In addition to all that, at the request of Mr. Fujioka, the overdrive and booster pedal can be supplied with voltages from 9 volt to 18 volt. This allows you to change the sound characteristics and achieve denser and thicker sounds which you can adjust according to your style or genre.
The enclosure is a vintage burgundy mist, matching Mr. Fujioka's signature guitar color, and it includes an image of the celestial bodies and universe that Mr. Fujioka liked, encompassing the infinite and expanding potential sounds of the Caesar X. Filled with his insatiable pursuit of sound and packed with his ideas, put Mr.Fujioka's sonic world in your hands.
*CAESAR-X is a product obtained from the bereaved family of Mr. Fujioka by formal sales permission, and part of sales is given to his family.